Animal Licences & Control
Of fur and feather
We get that pets are part of the family. We are committed to working with the community to create a safe, healthy, and caring environment for animals and people. Whether it's walking your dog on a leash, adopting a pet, purchasing a dog licence, or issuing a complaint, we offer a range of services for animals and their owners.
Dog Licensing
Licensing your dog is a key factor in responsible pet ownership. It is to your advantage to obtain and attach a license tag to your dog, as it will assist in the identification of your dog if it is lost, impounded or stolen.
Dog Licenses are required for any dog four months of age or older.
License tags must be attached to the dog's collar or harness at all times to be valid.
Dog Licenses Expire December 31.
Benefits of licensing your dog:
It is easier to find a lost dog and return to its owner if it is licensed.
Your dog will come home to you if lost without going to the animal shelter first.
Licence fees are used to care for and feed lost or stray pets, and find a home for them.
Annual Licence Fees for Dogs, Bees, and Hens
All spayed and neutered animal licenses must be supported by a Veterinarian's Certificate.
Scoop the Poop!
Whether on public or private property, we ask that you kindly please pick up after your pet. Dog Bag Dispensers are located around the community for everyone's use when you are out and about with your furry friend. Find dispenser station locations in the map below:
Contact
Animal Control & Bylaw Services
1 Mackenzie Blvd
Mackenzie, BC
250-997-3221
Backyard Bees & Hens
The District now permits backyard hens and beekeeping in some residential areas within the townsite, as the community has displayed overwhelming support for these activities. To ensure the safety of the hens and bees, and to mitigate any potential impacts on adjacent property owners, residents who wish to keep hens or bees must adhere to the following requirements.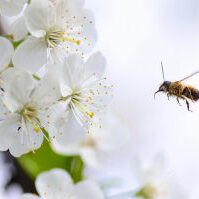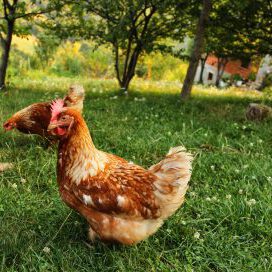 Pet Owner Responsibilities
Let's work together to be responsible pet owners by following these simple guidelines:
Provide adequate food, water, shelter, veterinary care and living conditions for your pet.
Clean up any droppings left by your pet on public or private property (including your own property).
If pets are fed outdoors, bring in any uneaten food as pet food may attract predatory animals.
Pets are safer if kept indoors, especially at night, as cats and small dogs can become prey to predatory animals.
Your pets must not create a nuisance to the neighbourhood.
Ensure your dog is a good neighbour - control excessive barking
Dogs must be on a leash and under your control at all times on municipal property, including trails, parks, and beach with exception to 2nd Beach and the Dog Park behind the Ernie Bodin Centre.
You must licence your dog and obtain a permit for backyard hens and bees.
Scoop the poop!
Whether on public or private property, pick up after your pet. Dog excrement is unsanitary, unsightly and can be a health hazard. For your convenience, there are dog bag dispensers at various locations throughout the community. If you find a doggie bag dispenser in need of refills, please contact us and we will have it filled. If you are keeping hens, please ensure the hen coop and pen receive regular attention to maintain a clean hen habitat and to minimize odor.
Failure to pick up after your pet may result in a fine of up to $500.
Lost, Found, or Surrendered Pets
Have you lost a dog? Please contact Animal Control at 250-997-3882 (press 0).
We are on patrol every day. If we see your pet, we will happily return it to you.
Report a Concern
When reporting bylaw infractions, Animal Control & Bylaw Services requires the following:
Complaints must be made in writing.
You must include your name and phone number, complaints cannot be made anonymously.
Please include as much information as possible regarding your complaint.
If it relates to private property (noise, garbage, unsightly property, etc.) please provide the address.