When it's time to unwind - or wind up.
Located at the heart of the community, the Mackenzie Recreation Centre is a hub for all things fitness and fun! We feel privileged to have such a robust facility which is home to our aquatic centre, weight room and cardio centre, ice arena, child's play area, and the Mackenzie Public Library. In addition, our staff work hard to offer a range of exciting recreation and fitness programs and courses to help you explore, grow, and thrive every day. There is something for everyone!
The climbing wall was relocated in the Rose Boyko room in late 2022.
The climbing wall is currently for use by 5 years and over (minimum 50 lbs)
Parents/Guardians must be in attendance for any climbers 12 years and under; Children 4 and under are not permitted to use the wall.
Make sure to check our schedule, and guidelines prior to use
No food or pop/juice permitted; water only environment
Balls, small toys and sticks are not permitted in the climbing space
Drop in fee to attend; rentals for climbing shoes and harness ($3.00);  socks must be worn in rented shoes
Book the Rose Boyko room here to boulder or belay (if you have successfully completed your belay test)
The Outdoor Rink is open throughout the winter months (weather permitting) behind the Recreation Centre.
There are nets, a covered bench, fire pit, as well as outdoor lights to keep skating under the stars! Just push the light button on the building next to the shop door for the lights to come on!
This is an unsupervised space and posted rules must be followed.
This space provides residents the option of playing wallyball, squash, soccer, floor hockey and basketball while the facility is open.
Please contact the front desk to book the court using your membership and/or drop-in passes - equipment is available including non-marking hockey sticks upon request. Indoor, non-marking shoes are mandatory, and no food, drinks or gum allowed on the court at any time in order to help protect the court surface.
In addition, contact recreation services to get on a list for our upcoming 3 vs 3 wallyball league and squash ladder league.
Book the Multi-Sport Court online
here
and play with your membership, punch pass or pay the drop in fee.
Stay fit with our cardio and weight rooms. Improve endurance and build strength with our fully equipped fitness centre, complete  with:
Cardio Room
Treadmills
Ellipticals
Rowing machines
Stair-climbers
Stationary bikes
Weight Room
Plate-loaded equipment
Free-weights
Synergy machine
All users must have clean indoor shoes
Youth aged 11 and under are not permitted in the Fitness Centre
Youth aged 12 to 15 may use the Fitness Centre if they are accompanied by a parent or guardian
Youth aged 13 to 15 must take the Weight Room Orientation Course if they would like to use the Fitness Centre unaccompanied
Youth aged 16 and older may use the Fitness Centre unaccompanied
Youth Weight Room Orientation Course
Lead by Anna Kandola, Practicing Kinesiologist (BCAK) and Certified Personal Trainer (CSEP)
Once complete, then participants can use the fitness centre without adult supervision.
Register today as space is limited!
Minimum of 3 participants to run the program.
Register for the next course offering
here!
Our aquatic centre has a variety of pools and features:
The 25-metre main pool makes it suitable for swimming lengths, diving, or aquafit classes.  The deepest part of the 25m pool is 3.2 metres.
Young children, babies, and their parents can swim safely and comfortably in the warm and shallow teach pool.
Hot Tub & Sauna is restricted to those aged 13+ unless accompanied by a parent or guardian.
Check our public swimming schedule and register online here!
Our Active Play Space is now open for children 8 and under, make sure to check our schedule and guidelines prior to use.
Parents/Guardians over 16 years or a qualified Red Cross babysitting certificate must be in attendance in the playspace when their child is on the playgym equipment
No food or pop/juice permitted; water only environment
Sock only environment
Balls, small toys and sticks are not permitted in the playgym
Climbing on the netting will result in closure of the playgym
Our beautiful Community Hall, Community Living Room, and new Arena Lobby and Reception Centre are open to the public!
We are greatly appreciative of the extensive community and financial support we have received for this project! Since 2015, the District has been awarded $5 million from the UBCM Strategic Priorities Fund Grant, $1.5 million from the McLeod Lake Mackenzie Community Forest, $250,000 from the Regional District of Fraser-Fort George (RDFFG), and $250,000 from the Northern Development Initiative Trust (NDIT) for a total of $5.5 million towards the new addition and energy saving upgrades!
The Community Hall is available to rent as an entire facility, or rented as three smaller facilities; The Sas Da'Ghe room, Callahan room, or Rose Boyko room.
Availability for these rooms can be viewed here.
Payment is required for regular rentals at the time of booking.
A credit or refund will be issued when the customer provides appropriate Withdrawal/Cancellation notice to reception staff:
Regular rentals (ie. seasonal practice, birthday parties, etc):

7 days' notice of cancellation is required for regular rentals such as birthday parties, seasonal practice, etc.

Special Events (ie. Swim Meet, Tournaments, Triathlon, etc.):

30 days' notice of cancellation is required for Special Events.
Little Mac Ski Hill - Re-opening December 2023
Our Little Mac Ski Hill is a gem in the community and was open for 55 days last season! It is located at the top of Laurier Drive, and adjacent to our Toboggan Hill!
Little Mac Ski Hill is a fully lit bunny hill that can operate in the evenings when it is dark! It has a button lift to bring you back to the top of the Ski Hill.
Season Passes are available for purchase at the Recreation Centre, and then once you have it, you can go directly up to the Ski Hill.
Never used a button lift? Check out our Button Lift pamphlet on how to use safely!
Skiing, snowboarding, biking and other activities that take place at ski areas involve the risk of injury. The information contained in this Safety and Risk Awareness website is intended to inform you of the risks, dangers and hazards that you may encounter at a ski area and help you and your guests stay safe while enjoying these activities.
Learn about important Safety & Risk Awareness information:
The use of ski area premises and facilities and participation in activities at ski areas involves various risks, dangers and hazards.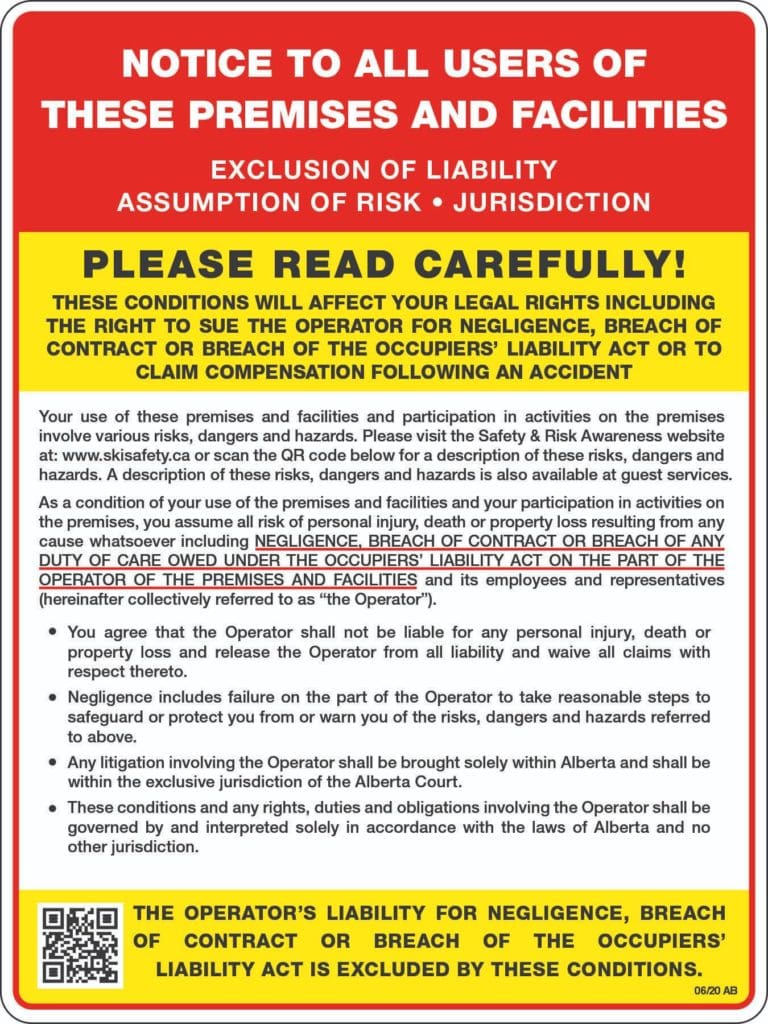 It is a condition of your use of the premises and facilities and your participation in these activities that you assume all risk of personal injury, death or property loss resulting from any cause whatsoever, including negligence, breach of contract, or breach of any duty of care on the part of the ski area operator.
Your legal responsibility as a user of the ski area premises and facilities or participant in activities at the ski area is explained in the following notice, which you will see posted at the ski area.
Allan Sheppard Civic Centre Arena
The Ice Arena was opened in 1974, which was connected to the original Curling Rink (now the Community Hall) which had opened in 1969.  Renovations occurred to add additional dressing rooms (for a total of six now).
Arena spectators have a significant seating area complete with overhead heaters, and access to an elevator to the top of the bleachers for viewing.
See our arena ice availability here!
Liability insurance will be required on all ice rentals. This can be purchased through: https://miabc.eventpolicy.ca/ or through a local broker.
In the summer months, the Arena Floor is utilized for Lacrosse, Grad, and many other special events.