Sharing the Mackenzie Experience
The District of Mackenzie works closely with the Mackenzie Chamber of Commerce, Northern BC Tourism, Destination BC, and regional neighbours to promote the region and its tourism operators, enhance recreation opportunities, provide visitor services, and operate the Mackenzie Caboose Visitor Centre. The District continually seeks funding opportunities to enhance recreation and sport facilities including our Recreation Centre, trails and parks.
Mackenzie has enormous opportunities for growth in the tourism industry and our team is always eager and available to help develop your tourism operation or service.
Tourism Marketing Initiatives & Partnerships
We think Mackenzie is pretty special, but don't take our word for it...
Resources for Investors & Businesses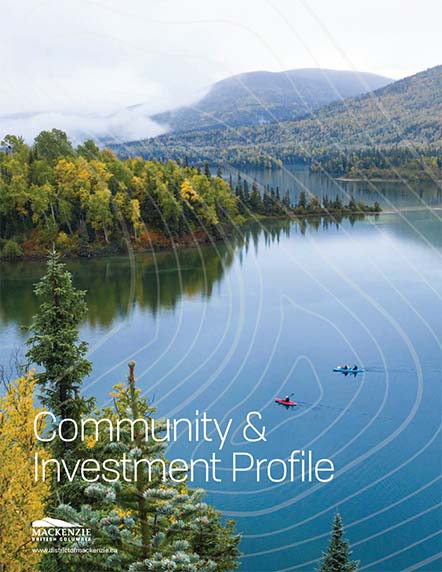 Tourism Plan 2021 - 2026
In 2021, the District completed a five year tourism planning process to develop a workplan with clearly outlined strategies in alignment with current regional and Provincial destination development objectives. The key goals being growing the tourism industry, increasing year-round visitation, diversification of the local economy, expanding the tax base, and increasing job opportunities and quality of life for residents.
A total of nine clear strategies are articulated in the Tourism Plan across three pillars. The three pillars are: Destination Development, Destination Marketing, and Communications.
To manage progress, and demonstrate value for the tourism sector in the context of economic impact, business and local residents, the results of this plan have the following Measures of Success:
Economic impact
Quality of life
Visitor economy and marketing environmental sustainability
We would like to acknowledge we received support from Northern BC Tourism Association through the Province of BC's Catalyst Fund for this project.
Northeastern Destination Development Strategy
In 2016, Destination BC underwent a comprehensive destination development planning process for the North East region of BC, which includes all communities from Fort Nelson to Prince George and east towards the Alberta Border. This process was one piece of an overarching Provincial plan to enhance the competitiveness of each region and to support and guide the long-term growth of tourism across the Province. The process included extensive stakeholder engagement and data gathering over the course of 26 months, in which the District participated.
The strategy serves as a guide for tourism stakeholders as they work collaboratively to grow the visitor economy in the region.