Economic Development opportunities in Mackenzie are wide-ranging. With low land costs, competitive tax rates, and road, rail, and barge access, Mackenzie is a great place to set down roots and set up shop.
Mackenzie is open for business!
Mackenzie is championing opportunities around mining, mineral exploration, forestry, green energy, technology, and tourism as a means of diversifying our economy. We are excited to work with potential investors from all sectors. We also have low land costs, competitive tax rates, and available power and rail access for new industrial business prospects.
Mackenzie is a great place to both live and work and maintains a high quality of life for its residents including:
A strong sense of pride and community
A safe and resilient community
World-class outdoor recreation opportunities
Clean air and clean water
Top notch municipal recreation facilities
No municipal debt
Outstanding snow removal services
Good health outreach services
We encourage you to consider investing in our community and look forward to working with you to explore opportunities.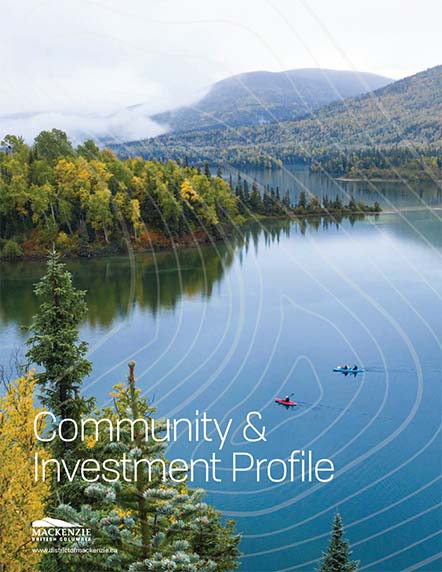 Resources for Investors & Businesses
Mackenzie 2.0 - Our Strategy for Tomorrow
Mackenzie 2.0 - Community Economic Development Plan is Mackenzie's community-based roadmap for creating a strong, vibrant, and diverse local economy. Building on our community's existing strengths, Mackenzie 2.0 outlines community identified actions and strategies towards building an environmentally and financially sustainable local economy centered on diversity and inclusion.