Tourism Workshop – Feb. 10/11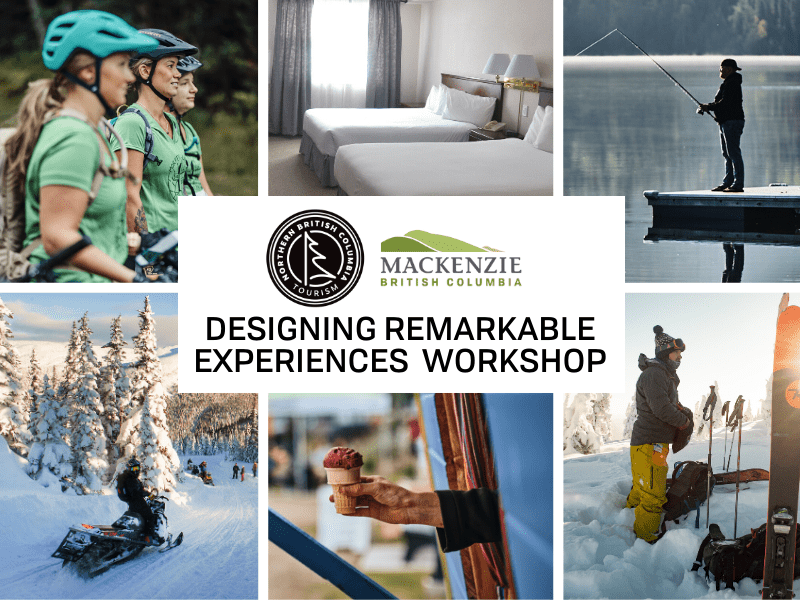 Event Details:
February 10 & 11, 2020
8:30 – 4:30pm (Day 1) and 8 – 4pm (Day 2) | Lunch included
Mackenzie Recreation Centre
Cost: FREE
Seating is limited. Please register by contacting Emily at 250-997-3221 or

ac.eiznekcamfotcirtsid@nheake

 
What is the Remarkable Experiences Workshop?
This two-day workshop is intended to shift our thinking beyond a tourism product to consider how tourism operators can deliver local, authentic experiences that are designed with the BC traveller in mind. Using a step-by-step approach, the workshop introduces experiential tourism concepts and best practices, along with traveller data, hands-on activities and group input to help tourism operators enhance existing product offerings or develop entirely new traveller experiences.
We all know what tourism products are: a hotel, a trail, a museum, a restaurant, or a beautiful view. But what exactly is a tourism experience? And, why should tourism operators care?
No longer satisfied with passively observing a destination (sightseeing), travellers today want to connect with locals, immerse themselves in local culture, taste food that is grown nearby, and learn something new – whether about themselves or a destination.
For tourism operators, experiences are an opportunity to differentiate their product. The combination of the province's natural beauty, history, culture, lifestyle, and its people are unique to BC. Other destinations may have mountains, but they don't have the mountain lifestyle that is reflected in this province. They may have coastline, but they don't have the economic and cultural history that has shaped how this province and its people have developed. These are our stories to tell.
If done right, travellers will share our stories – their trip memories – with their family and friends.
Audience – Who should attend?
Tourism businesses or non-profit organizations, such as museums, attractions, clubs that are actively involved in creating visitor experiences.
Audience members should include business owners and/or those within an organization who are involved with developing and designing products and experiences.
Ideally, attendees are those that either make or can influence experience development decisions within an organization.
Participants should ideally be in business for at least one year, or are in the development stages.
Why attend?
Workshop participants should come ready with a potential idea for a new experience or enhancements to an experience they currently offer. This is dedicated time to work on those ideas, away from your business and in the company of other industry members, giving you exposure to regional connection opportunities. Whether your goal is new revenue opportunities, new markets, or if you want to extend your season, the workshop is designed to provide a mix of information and activities that can help move your idea closer to reality.
Participant Time Commitment: Two full days, lunches provided, and a workbook to take home so you can continue to develop your new experiences.