Special Council Meeting – 2020 Draft Annual Report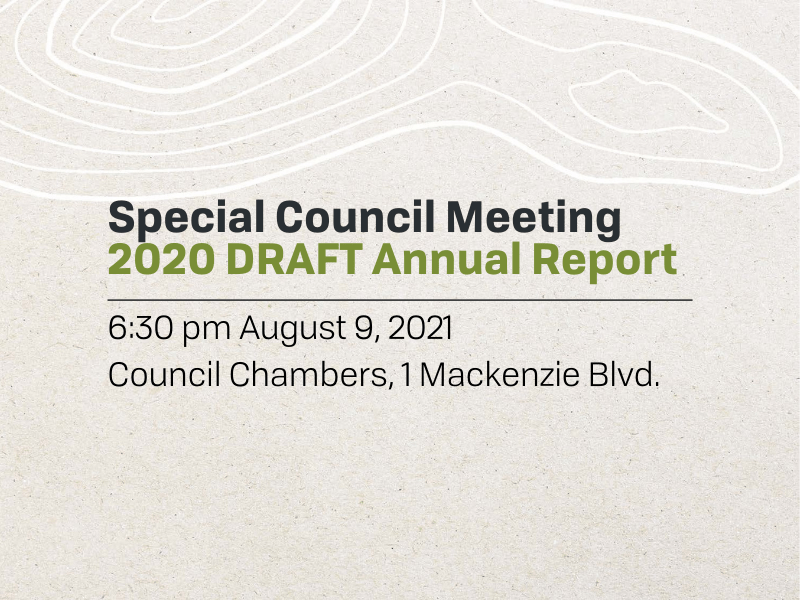 A Special Meeting of the Council of the District of Mackenzie will be held on Monday, August 9, 2021 to receive the 2020 DRAFT Annual Report. Every municipality in BC compiles an Annual Report to highlight accomplishments of the previous year and plans for the upcoming year.
Community members are invited to comment on the draft report prior to Council adopting the plan each year. A public question period will be held during the meeting to answer any questions.
Date:               Monday August 9, 2021
Time:              6:30 pm – 7:00 pm
Location:        Council Chambers, 1 Mackenzie Blvd.
Copies of the DRAFT report and meeting agenda are available for the public at the District Office and at the following link:
6:30 pm - Special Council Meeting
The meeting will also be held over Zoom/phone for those who wish to attend virtually. If you are interested in attending virtually, please call Corporate Services at 250-997-3221 or email by 4:00 pm on Monday August 9th.
If you are unable to attend, we ask that you please forward any written submissions or questions to the District of Mackenzie Office at 250-997-3221 or by email.