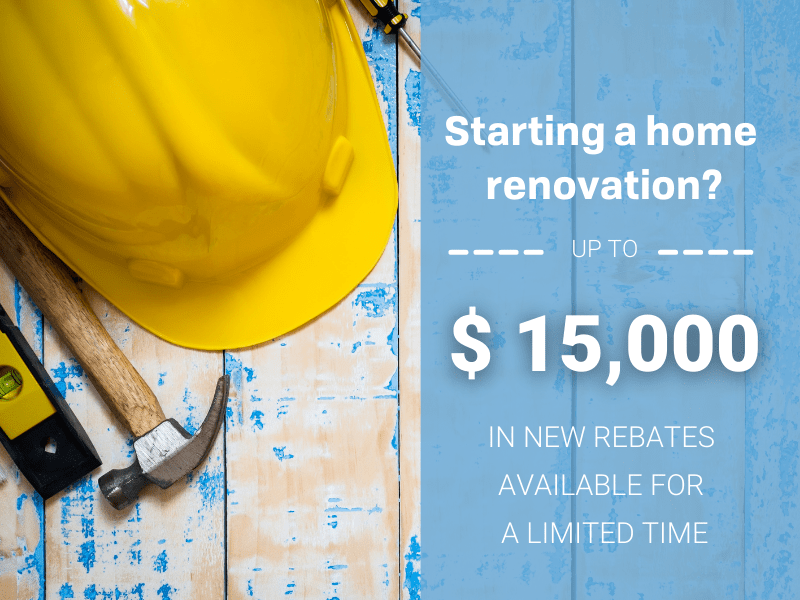 Hey homeowners! Are you planning a home renovation that will make your home more comfortable and energy efficient? This could include space heating systems, water heating systems, insulation, windows, doors, draftproofing and ventilation?
The District is happy to share that the Double the Rebates promotion from CleanBC Better Homes has been extended until March 31, 2021.
Homeowners are eligible for Double the Rebates on eligible home energy upgrades on space heating/cooling and domestic hot water solutions.
Key program elements include:
Limited time offer October 1st, 2020 to June 30th, 2021.
Promo code required for participants (register online).
Only one promo code needed even if applying for multiple double rebates as the code is unique to household account.
Rebate applications must be submitted within 6 months of the invoice date.
Purchase equipment and install by licensed contractor between October 1st, 2020 and June 30th, 2021.
PLEASE NOTE:  Participants must register for a promo code from Clean BC Better Homes by March 31st, 2021 to qualify.
Other rebates for insulation, windows, doors, draftproofing and ventilation can be found and combined using the Rebate Search Tool.
Program partner webpages can be visited for more information: BC Hydro Home Renovation Rebate Program and FortisBC Home Renovation Rebate Program.  Additionally, homeowners can email BC Hydro and FortisBC with any questions or call a CleanBC Energy Coach at 1-844-881-9790.