Fact Sheet: Signature Trail and Community Bike Park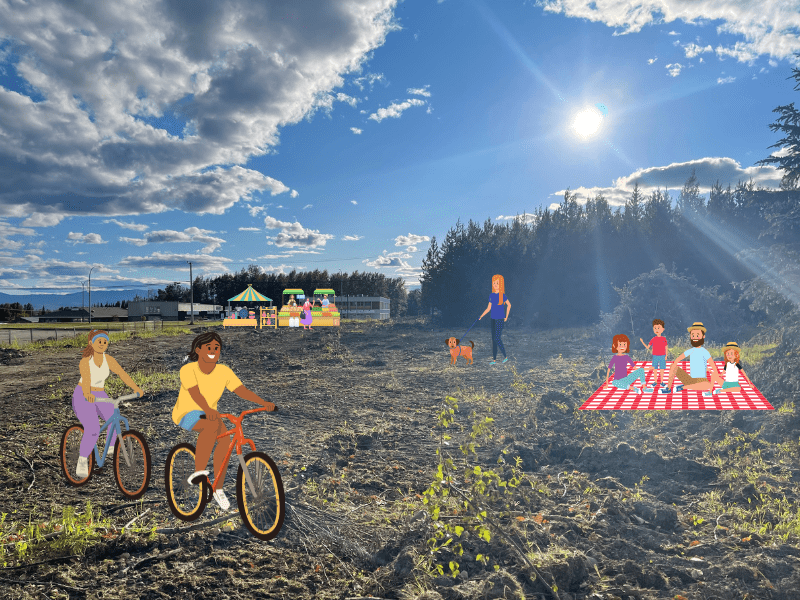 Exciting changes are taking place at Little Mac Ski Hill and downtown Mackenzie!
Thanks to the generous support of our funders - the Province of BC, Northern Development Initiative Trust, CNC Legacy Forest, Coastal Gaslink, and South Peace Mackenzie Trust - the District has received $910,000 towards the Signature Trail and Community Bike Park project. The project includes upgrades to Little Mac, improvements to the local trail network, and the installation of a pump and jump track in a community park.
What's happening now?
Construction of a community park inclusive of both a pump and jump track in downtown Mackenzie
Upgrades to the Little Mac chalet and landscaping
The goal of the community park project is to create a family friendly hub of outdoor activity for people of all ages and skill levels, while also beautifying the space. Expected completion is set for Spring 2023.
Community Bike Park Information Board
The upgrades to Little Mac will include construction of an outdoor shelter and fireplace with seating areas, as well as general landscaping. We have an expected completion of November 2022.
Little Mac Ski Hill - Concept Drawing
The following fact sheet has been developed to provide residents with further information about the project:
Further Info:
In addition, please view the following concept drawings and Council reports for more detail:
Updates and Questions:
Any further updates will be posted on the District of Mackenzie website and Facebook page.
Questions may be directed to:
Recreation Services
Phone: 250-997-5283
Email