COVID-19 Latest Restrictions – October 14th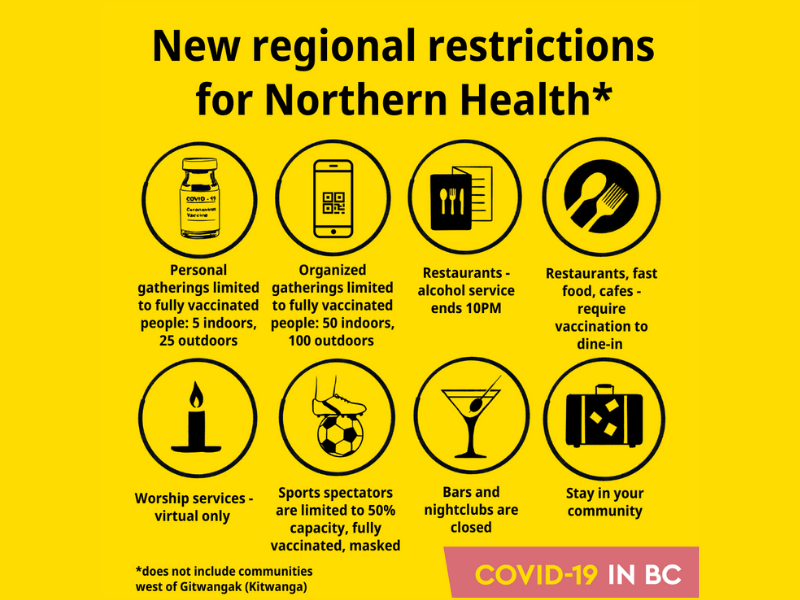 COVID-19 cases in the North are on the rise. Effective October 14 at midnight, new health orders for the Northern health region (specific areas only) will come into effect. This circuit breaker order is in place until Nov 20 to give a chance for hospitalizations to go down.
The orders include:
Personal gatherings limited to 5 people indoors, and 25 outdoors, with only fully vaccinated people.
People who are not yet fully vaccinated can only gather with their own household.
Organized in-person gatherings limited to 50 people indoors, and 100 outdoors. All organized gatherings require a safety plan, masks, and presentation of BC Vaccine Card with full vaccination.
Restaurants must not serve alcohol past 10PM.
Restaurants, fast food, cafes require vaccination to dine-in
Bars & nightclubs are closed.
Worship services - virtual only.
Sport events spectators are limited to 50% capacity, and require a safety plan, masks, and presentation of BC Vaccine Card with full vaccination.
Non-essential travel outside your community is strongly discouraged.
To help keep your community safe and get back to doing the things you love, get vaccinated today. Find a clinic here: gov.bc.ca/VaxForBC and learn more about the regional health orders here: gov.bc.ca/Covid19Restrictions
Mackenzie Recreation Centre:
Due to the latest Provincial Health Order, all spectators at sporting events must show proof of vaccination to access the spectating areas.
This includes all spectators watching from the lobby, bleachers and/or around the rink/pool. The restrictions will remain in place until November 20, but may be extended if cases remain high and vaccination rates remain low. Masks are also required in common areas for children five and up.
Masks are not required for:
Public Skating (when on the ice)
Athletes participating in sport (when on the ice for figure skating/hockey or using the indoor pickleball court/climbing wall)
Fitness Classes/Training Sessions (once inside the Gym)
Pool Sessions
Masks are available at the front desk and must cover the mouth/nose.
Thank you for your understanding in the implementation of this order, please contact the Rec Centre at 250-997-5283 if you have any questions.