Career Opportunity – Temporary Part-Time Recreation Attendant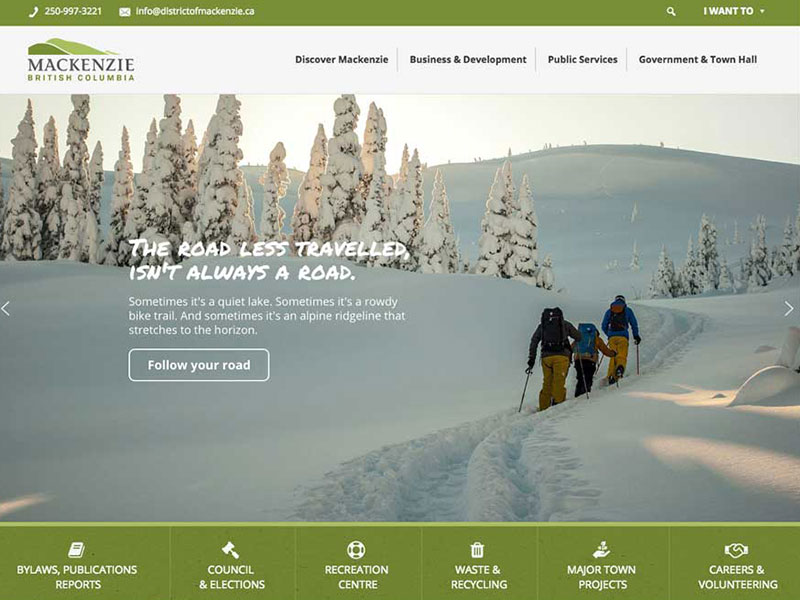 Recreation Attendant Temporary Part-Time
(up to 6 months)
Recreation Services Department
(2 Positions Available)
Application Deadline: 4:00 pm Monday February 7, 2022
The District of Mackenzie is currently accepting applications for qualified Temporary Part-time Recreation Attendants to join our team. These positions are responsible for creating and maintaining a safe and enjoyable
environment for the customer during program operations. They assist Program Facilitators and Recreation Activity Leaders to ensure high quality, successful programs.
Located in the scenic Northern Rocky Mountains Trench 185 km north of Prince George, Mackenzie offers superbfour season outdoor recreation opportunities and an exceptional quality of life. Housing costs are among the most affordable in the province. Residents are involved in community life with numerous service organizations,
community clubs and groups catering to a variety of interest. The local Recreation Centre with arena, swimming pool, fitness centre, community hall and library is viewed as the hub of the community. All these amenities with the safety afforded by small town living makes Mackenzie ideal for young working families.
Successful candidates must have a Grade 10 education, hold a current Standard First Aid Certificate, have the High Five Principles of Healthy Child Development Certificate, and must pass a criminal record check.
This is a unionized position within the CUPE 3706 Bargaining Unit, offering an hourly wage of $21.56.
If you feel you are qualified for this position you are invited to submit your resume with a cover letter indicating Part-time Recreation Attendant Please provide details concerning work experience, education, qualifications and
employment references to:
District of Mackenzie
Bag 340 – 1 Mackenzie Blvd.
Mackenzie, BC, V0J 2C0
Attention: Kaleena Wilson, Human Resources Coordinator
Email: ac.eiznekcamfotcirtsid@aneelak 
The District thanks all interested applicants in advance, however only those short-listed will be contacted