Career Opportunity – Economic Development Clerk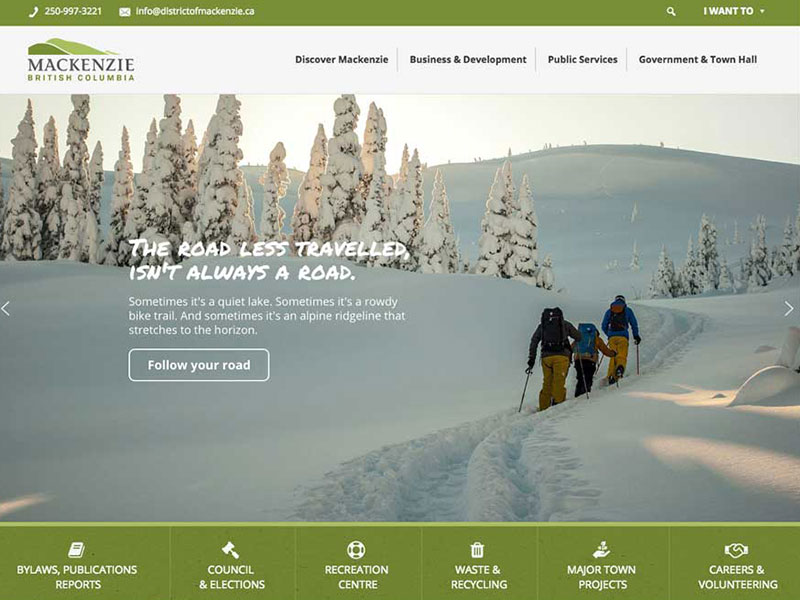 ECONOMIC DEVELOPMENT CLERK
Application Deadline: 4:00 pm Monday, February 14, 2022
The District of Mackenzie is seeking to fill the position of Economic Development Clerk. Reporting to the Director of Corporate Services, the Economic Development Clerk will work in a team environment to plan, develop, and implement local business development initiatives. The Economic Development Clerk is also responsible for assisting with the delivery of all approved tourism and economic development activities and initiatives, preparation of marketing materials, responding to requests for economic information and the promotion of Mackenzie and its business community.
Located in the scenic Northern Rocky Mountain Trench 185 km north of Prince George, Mackenzie offers superb four-season outdoor recreation opportunities and an exceptional quality of life. Housing costs are among the most affordable in the province.  Residents are involved in community life with numerous service organizations, community clubs and groups, catering to a variety of interests. The local Recreation Centre, with arena, swimming pool, fitness centre, community hall and library is viewed as the hub of the community.  All these amenities with the safety afforded by small town living makes Mackenzie ideal for young working families.
In order to qualify for this position you will have a post-secondary education in a related field, such as, but not limited to, communications, economics, business administration, or public administration. You must have excellent interpersonal skills and be able to tactfully and professionally deal with various levels of government officials, members of the public and fellow employees.  Experience in public sector community development, marketing, or communications is desirable. Proficient computer skills and a strong working knowledge of Microsoft Office are necessary. Excellent oral and written communication skills and the ability to conduct thorough research, prepare reports and correspondence, and develop presentations are necessary. The Economic Development Clerk will have experience in webpage development and maintaining all social media.
The District of Mackenzie offers a competitive salary, a comprehensive benefits package and the opportunity to work with an outstanding team.
If you feel your education and experience have prepared you for a position such as this, please submit your resume and covering letter detailing your work experience, education, qualifications and employment references to:
District of Mackenzie
Bag 340 – 1 Mackenzie Blvd.
Mackenzie, BC, V0J 2C0
Attention:  Kaleena Wilson, Human Resources Coordinator
Email: ac.eiznekcamfotcirtsid@aneelak
The District thanks all interested applicants in advance, however only those short-listed will be contacted.