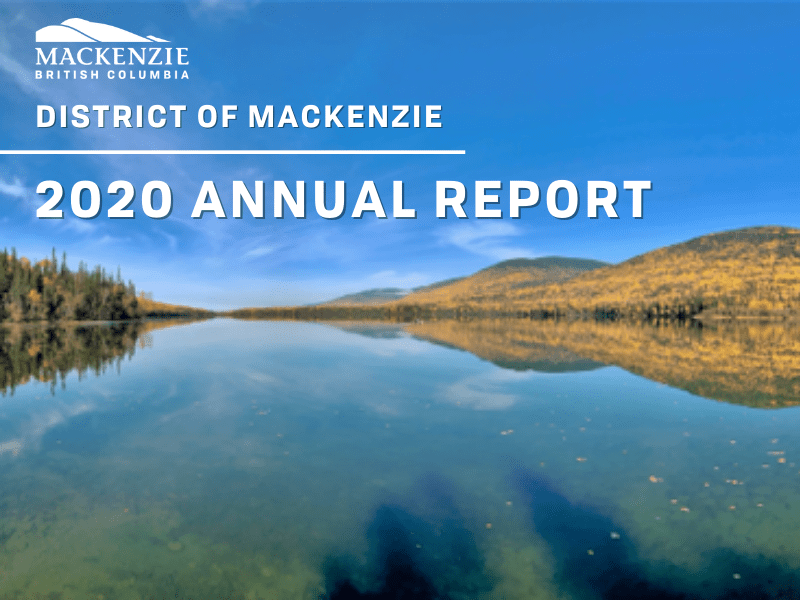 The draft 2020 Annual Report is now available for public inspection.
Did you know that every municipality in BC produces an Annual Report each year to highlight accomplishments of the previous year, and plans for the upcoming year? The report also provides the audited financial statements of the previous year.
Additionally, the District of Mackenzie's Annual Report is also a progress report card to the community on specific goals developed by the community and set by Council in the 2017-2020 Council Priorities strategic planning process.
The report can be viewed at the link above or paper copies can be requested at the District of Mackenzie office at 1 Mackenzie Boulevard.
You are encouraged to provide comments or questions regarding the report by:
Mail: Bag 340, Mackenzie, BC, V0J 2C0
Council will also hold a Special Meeting to hear the public's comments regarding the 2020 Annual Report on August 9, 2021 from 6:30 - 7:00 pm in Council Chambers at 1 Mackenzie Boulevard. The meeting will also be held over Zoom/phone for anyone wishing to attend virtually. Anyone wishing to provide feedback regarding the report can attend the meeting. Please contact Corporate Services by email or phone for Zoom/phone details prior to the meeting 250-997-3221.
Previous reports can be found in our Mackenzie Document Centre.