Building a Better Mackenzie
We're always looking forward, and are constantly looking for ways to enhance our community.  This page highlights some of the major projects currently underway. Keep an eye on our News & Announcements, and also our FaceBook Page for project updates!
Mackenzie Recreation Centre Energy Retrofit & Community Hall Project
The Mackenzie Recreation Centre (MRC) lies at the core of community life in Mackenzie. Built in stages dating back to the 1960s, the MRC is in dire need of some critical renovations to address growing operating costs and building code issues. As well, planning processes and community engagement revealed a critical gap in municipal service provision in the way of event hosting capacity and the need to build a community hall. Thus, a 25 year master plan was created for upgrades to the facility.
However, since 2015, the District has been awarded $5 million from the UBCM Strategic Priorities Fund Grant, $1 million from the McLeod Lake Mackenzie Community Forest, $250,000 from the Regional District of Fraser-Fort George (RDFFG), and $250,000 from the Northern Development Initiative Trust (NDIT) for a total of $6.5 million towards the project. This has allowed the District to complete Phase 1 and 2 of the 25 year master plan ahead of schedule.
An arena renewal investment, as well as some critical building retrofits, including energy efficiency, code, refrigeration, exterior building upgrades, and lighting upgrades to the arena and library, as well as new hockey change rooms.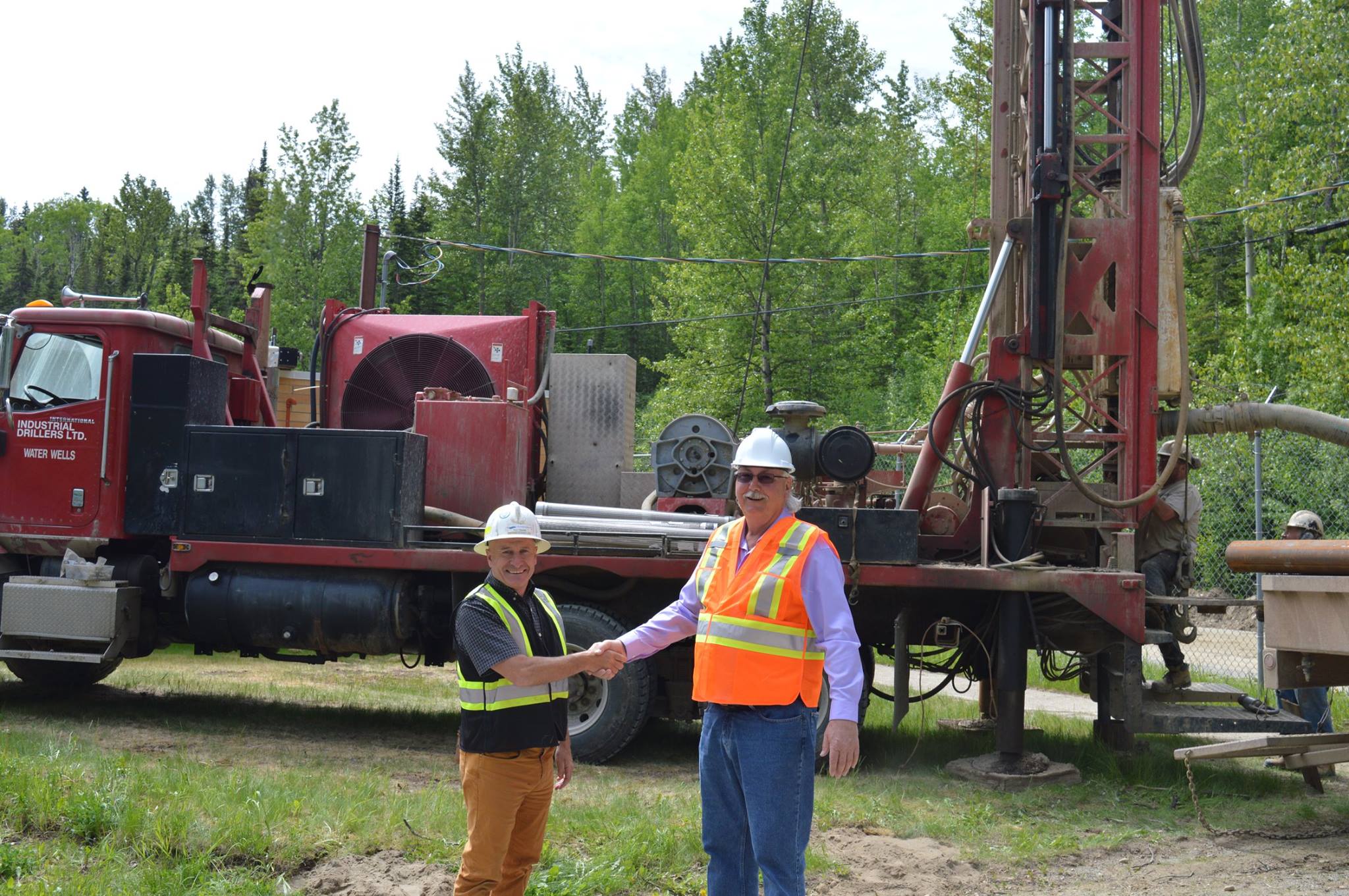 The Morfee well project started by drilling a test well in July 2017 approximately 25 ft South of the existing Pump House.
Beginning in September 2017 we began drilling the production well using a different type of drill rig intended to minimize overspill of water and disturbance of sand and silt. After several days of drilling and development we could not get the projected water yield due to a very rare formation of the layers of gravel, sand and silt layers, so we chose to move back closer to the original test well. We started another production well using a slightly different rig, and after about a week of drilling and another few days of development, we are happy to say our water yield is crystal clear and higher than projected. The Morfee well project was completed on budget in July 2018.
The District of Mackenzie was approved for $30,000 in grant funding from Northern Development Initiative Trust to upgrade an old gas station site in the town core. This funding has allowed us to revitalize and repurpose the site to host the Mackenzie Community Market and provides an accessible public space for families. The beautification project has significantly improved the aesthetics of the old gas station site in the center of town, transforming it into an area where the market, food trucks and live music can be hosted. This project involved the purchase of tents, signage, benches, picnic tables, bear proof garbage cans and wheel chair accessible picnic tables. The District of Mackenzie will also be establishing a power source and irrigation on the new site for the vendors and musicians to access.
Cicada Ball Diamonds Upgrades
The District of Mackenzie has been seeing an increase in ball diamond use and was able to secure $30,000 in grant funding from Northern Development Initiative Trust to upgrade the Cicada Ball Diamonds. Investments in the realignment, installation of new fencing and significant infield improvements were performed in Fall 2017. Ball Diamond four has been upgraded and an official unveiling ceremony took place on July 12, 2018.