Town Council
Mayor & Council
District of Mackenzie Council is comprised of a Mayor and six Councillors, elected for four year terms. Municipal Councils are elected by the people and make decisions on behalf of the residents of our municipality.
Meet our 2018 – 2022 Council members:
Mayor Joan Atkinson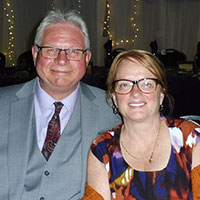 Joan moved to Mackenzie with her husband and two sons in 1997 and boasts there is no place she would rather live. Both of Joan's sons and her husband Jim work in the Forest Industry in the area, so Joan recognizes the importance of maintaining a strong forest economy in our community. Joan is very enthusiastic about the opportunities of good paying jobs, affordable housing and a great quality of life that Mackenzie can offer to families and young persons. She is also committed to ensuring the Senior Community in Mackenzie enjoy the respect and support that is due them.
Joan has been a member of council since 2007. Joan's involvement in the community has been vast and varied and she has been recognized as Volunteer of the Year. Joan sees the role of Council of being one that moves the community into the future, with strong fiscal management, good governance and exploration of all opportunities that are available to Mackenzie. Joan is committed to ensuring Mackenzie is a safe, attractive and healthy community that people are proud to call home.
Councillor Andy Barnes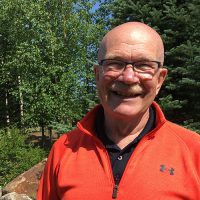 Councillor Barnes was transferred to Mackenzie as the head of the RCMP detachment in 1989. He retired from the RCMP in 1991 to become a Pastor at the Living Joy Christian Center, where he and his wife Adele were able to become very involved with children and youth in the community. Although they appreciate the natural beauty of our community, the friendly, helpful and hardy people are what Andy and Adele love, and they are grateful to have developed many amazing friendships over the past 29 years. Andy and Adele have raised three children in Mackenzie, and believe it is a great place for a family. They find great enjoyment in family and grandchildren and love the time spent together. Their grandkids love to visit Mackenzie and enjoy going to the pool and eating at the local restaurants.
Andy loves sports, and is a member of the Mackenzie Golf and Country Club. He plays drop in hockey during the winter, golfs during the summer, and appreciates our Recreation Center, doing his best to get to the gym three times a week. He also greatly enjoys reading.
Over the last several years, Andy has become more aware of local government and began to pay attention to what was happening in our community from a government perspective. As a result, he decided to run for a spot on Council. He was elected in January 2017 and enjoys bringing his own leadership experience to a team serving our community. He believes this community is a tremendous place to live, work and raise a family, and, that there are many opportunities for us to grow and improve.
Councillor Viktor Brumovsky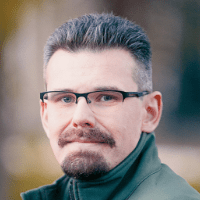 Viktor and his family first arrived in Mackenzie 15 years ago, shortly after he finished his formal education. Their first child had just been born and they were looking for a place to build a life together. When Viktor was offered work in his chosen field here in Mackenzie, his family packed up their things and headed north.
At first they didn't know what to expect from life in Mackenzie but the town soon convinced them to stay. Where else can one find such a clean, affordable, and healthy place to live?  It's a place where kids are afforded a level of freedom to grow and learn that is rare in today's world, while adults can enjoy living life at a more human pace than we see in bigger towns and cities.  We have more time to visit with friends, practice our hobbies, or head out into the woods to enjoy our surroundings.
Viktor is a GIS analyst at Wildlife Infometrics, performing mapping and spatial analysis work to assist his coworkers with wildlife consulting projects across western Canada. In the community, he is an active volunteer and is involved with a number of groups including the Mackenzie Fish and Game Association, Air Cadets, the Mackenzie Community Arts Council, and the Mackenzie Middle Years Advisory Group. Previously he served on the Mackenzie Public Library's Board of Directors for eight years, including two years as the chairperson. In addition to this he is currently, or has been a member of the Mackenzie Nordiques Cross Country Ski Club, Mackenzie and Area Radio Society, Mackenzie and District Museum Society, and the Royal Canadian Legion. His hobbies include woodworking, fly fishing, hunting, and gardening.
Viktor's family moved to Canada when he was an infant. He grew up being very thankful to this country for providing citizenship and a home when it was most needed and has always thought that the only way to repay this gift is by trying to be the kind of citizen that Canada can be proud of. This drives him to get involved, volunteer, and lend a hand where he is able to in the hopes of making his home better in whatever small ways he can.  After volunteering in a number of other areas around the community he felt prepared to run for Council and work towards encouraging positive outcomes for the entire community.
Councillor Peter Grogan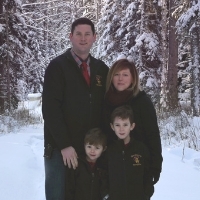 Peter and his family first moved to Mackenzie in 2010 as it provided work opportunities for his wife Sara as a teacher and for Peter, it gave him the chance to get invested and raise a family in a community with awesome recreational opportunities and small town living. The supportive culture and economic opportunities in Mackenzie, including well-paying jobs, affordable housing and low taxes, have compelled their family to stay. Peter works in property management and development and is an active member of the volunteer community. He not only coaches minor hockey and t-ball, but has also been a volunteer fire fighter for eight years. In his off time, the activities he enjoys include snowmobiling, fly fishing, mountain biking and hockey.
Peter believes that the fabric of Mackenzie is made up of the people and organizations that promote healthy living and entertainment. The winters are long and the snow is deep, but the recreational organizations make the cold, dark season enjoyable. During his time in office, Peter aspires to do everything he can to continue to support Mackenzie's clubs and organizations that have been dedicated to making Mackenzie a great place to live.
Councillor Amber Hancock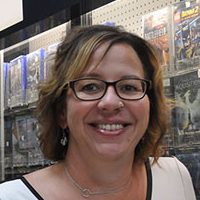 Amber has lived in Mackenzie almost her entire life, having only left the community for a brief period. In 1995, Amber returned to the community for her husband's work, and like many in Mackenzie, with the well-known plan to only stay for two years. However, the birth of their son made them realize, with the short walking distances to Morfee Lake and Little Mac, what an amazing place this is for raising a child. As he grew up, they loved Mackenzie for different reasons – hiking, kayaking, camping – but always the outdoors. And the people, who give this town a sense of community like no other.
Amber is the owner of two local (Love Mackenzie) businesses: Chrysalid Tech and Print and Santosha Yoga. She is also president of the local Rotary Club and the Mackenzie Community Market, treasurer for Kimta Community Bus Society, a director of the McLeod Lake Mackenzie Community Forest and a member of both the Mackenzie Gets Healthy Committee and the Mackenzie Nordiques. Her hobbies, when she has time for them, include hiking, skiing, snowshoeing, kayaking, camping, traveling, reading and yoga.
Amber ran for office because she loves this town, and contributing to solutions that address the issues we are facing. In her role, she enjoys working with the Mayor and other Councillors, building relationships with similar people in other communities, watching projects take shape, and talking to local residents about what they feel is most important.
Councillor Raye McMeeken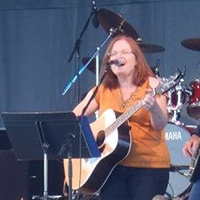 My name is Raye McMeeken and I have been a councillor for the District of Mackenzie since May 2013. I have lived in Mackenzie for 23 years and my husband Mel and I raised our 3 children here. I work at Mackenzie Secondary as the Business Manager. I have volunteered for many organizations in Mackenzie throughout the years. In the past I was PAC Chairperson for Mackenzie Elementary, sat on the Mackenzie Performing Arts Society, organized coffee houses and community musical productions, was the President of the 2009 Mackenzie Northern BC Winter Games and most recently just finished my term as the Future Host position (Govt of BC appointed position) on the Canada Games Council. Currently I volunteer as a worship leader for Living Joy Christian Centre and I am the Vice President of the Northern BC Community Sport Development Society (formerly Northern BC Winter Games Society).
I have wanted to run for a council position for a number of years, but there always seemed to be too much going on in my life. This January when a by-election was called I felt it was the perfect time for me to step in. I love Mackenzie and what this town represents. The people of this community are giving, friendly and hard-working and I wanted to be able to give back to the town that has provided so many opportunities for me and my family. When Mackenzie in Motion started I was so excited to see council looking at a long term vision for our town and I knew that I wanted to be part of this planning. One of my goals as a councillor would be to see a Community Centre built where there would be a stage for musical and theatre productions, the visual arts could be featured and people could gather for large events like weddings and banquets.
As my time on council has been so short, my favourite experience so far has been getting to know the other councillors and to learn from them. They have been serving Mackenzie in this capacity for a lot longer than I have and they have a wealth of knowledge that I can draw on.
Councillor Jim Wiens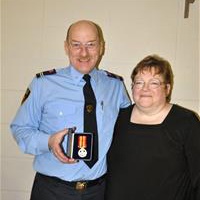 Jim has lived in Mackenzie since 1988, transferred here during a career with BC Rail. Jim was also an Account Manager with the Mackenzie Royal Bank for ten years. He is currently the Curator of the Mackenzie & District Museum, and has a passion for the history of the area. Jim and Debbie raised their three children in Mackenzie through to graduation at MSS, they actively volunteered with synchronized swimming, gymnastics and minor hockey. Jim is a Captain on the Mackenzie Fire Department, and has been a fire fighter for 21 years in Mackenzie, recently receiving the Government of Canada 20 year recognition for volunteer fire fighting. He is clear that he could not have served 20 years as a fire fighter without Debbie's support. This is Jim's fourth term on Council with the District of Mackenzie. Jim's hobbies are trains, trains, trains, and reading.
Council Committees & Task Forces
The primary role of an Advisory Committee is to provide advice, recommendations and a community perspective on municipal initiatives and programs.
Accessibility Committee
The Accessibility Committee Terms of Reference are available for review.
Reports & Recommendations to Council: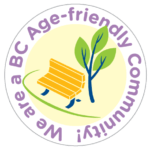 Mackenzie Wildfire Advisory Committee
The MWAC Terms of Reference are available for review. For further information about the committee's activities, please visit our Wildfire Protection page.
Council Priorities 2017-2020
2018 Election
The General Municipal Election was held October 20, 2018. Visit our elections page to view election results.
Contact
Dean McKinley
Chief Administrative Officer 250-997-3221
Email Dean
---
Corporate Services
1 Mackenzie Blvd
Mackenzie, BC
250-997-3221
Council Priorities
The purpose of setting Council priorities is to provide District staff with the direction needed to develop operational plans to achieve the Council's vision.
In 2012, Council approved Mackenzie in Motion, a plan which identified the community's priorities for 2012-2015. Council's priorities for the 2017-2020 period reflect the priorities set during the Mackenzie in Motion process, and have been further expanded to reflect today's emerging issues and developing opportunities.
Council Priorities 2017 – 2020
Community Building
View the District as a whole and focus on investment services and infrastructure, which are fundamental to quality of life.
Economic Vitality
Refers to the District's economy, economic development and the creation of investment and business friendly policy.
Environmental Sustainability
The way we operate has an impact on the environment. We are committed to integrating sustainability into our decision making and business practices.
Social Development
Encompasses principles of social equity, social well-being and citizen engagement, and support of a healthy community and quality of life.
Good Governance
Refers to the system of municipal government in its role as a democratic institution, a public policy maker and a deliverer of public services.
Fiscal Sustainability
Refers to the District's ability to maintain its programs and services while funding its growing infrastructure commitments.
Council will review this plan annually to respond to new ideas and changes in circumstances that arise as we work through the 2017 – 2020 period. Community consultation is an important part of setting priorities, achieving our goals (operational plans) and in updating Council's priorities.
Please see District of Mackenzie Council Priorities 2017–2020 for further detail.