When:
February 11, 2019 @ 6:15 pm – 7:00 pm
2019-02-11T18:15:00-08:00
2019-02-11T19:00:00-08:00
Where:
Council Chambers
1 Mackenzie Blvd.
Contact:
Finance Department
250-997-3221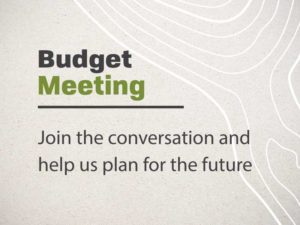 Join us for a Special meeting of the Council to allow members of the public to provide input to the 2019 budget.
Date:               Monday, February 11, 2019
Time:              6:15 – 7:00 pm
Location:      Council Chambers
This is an opportunity for the public to provide feedback and ask questions regarding the 2019 Provisional Operating & Capital Budgets.
Copies of the proposed budget report will become available to the public at the District Office and on the District website on Thursday, February 7, 2019.
If you would like to provide input and are unable to attend the meeting, please drop off your submission to the District Office or email to ac.eiznekcamfotcirtsid@irrek.